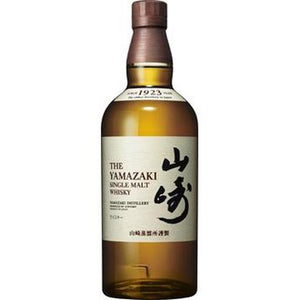 SUNTORY Yamazaki NV single malt 700ml SUNTORY Yamazaki NV
Features & details

single malt whiskey
Alcohol content: 43%
Suntory
"Yamazaki" is brewed with the famous water that springs up in the land of Yamazaki, and various Yamazaki malts such as the traditional Mizunara barrel-stored malt and the innovative wine barrel-stored malt meet while repeating the four seasons in this land. This is the single malt whiskey that was born.

The color is bright reddish amber. The scent is soft and gorgeous, and the hidden strawberry-like scent is brought about by the wine barrel-aged malt whiskey, and the honey-like sweet, sparkling, smooth spread is created by adding the mizunara oak barrel-aged malt whiskey. Immerse yourself in a beautiful and pleasant aftertaste of sweet vanilla and cinnamon.

Yamazaki
Yamazaki Distillery is located in Yamazaki, Mishima-gun, Osaka, on the border with Kyoto. Since its birth in 1924 as Japan's first full-scale whiskey distillery, it has continued to lead the history of Japanese whiskey. Yamazaki, which is brewed with the water of Suinono Rikyu, a place of famous water that Sen no Rikyu once loved, attracts malt connoisseurs around the world with its noble and complex flavor.