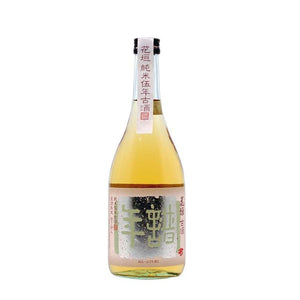 Hanagaki chronological record pure rice five year old sake
Features & details
Fukui Prefecture
Nanbu Sake Brewery
Raw material rice: rice, rice koji
Alcohol content: 15%

Carefully selected junmai sake is aged for 5 years in an old sake cellar, giving it a golden glow and a pleasant aged aroma.
Please enjoy the complex depth created by the flow of time, the mature style, and the calm intoxication.

Recommended for those who like matured dishes such as aged meat and Saikyo-yaki.

Nanbu Sake Brewery
"Hanagaki" is brewed by Nanbu Sake Brewery Co., Ltd. It has been over 100 years since we have been producing handmade sake in Ono City, Fukui Prefecture, a small Kyoto in the Hokuriku region. It is a historic sake brewery blessed with good water, good rice, and good people.