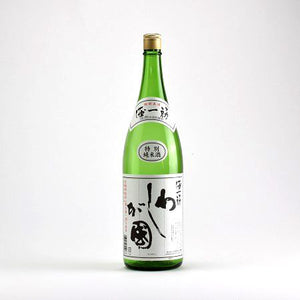 Washigokuni Sake Special Pure Rice Sake 720ml
・Characteristics Cold storage ・Clarifying filtration ・Classification in the manufacturing method
・Fragrance type Refreshing fruity fragrance ・Slightly rich in flavor ・Slightly sharp in flavor

・Other Ingredients: 100% rice Kura no Hana (produced in Miyagi Prefecture)
Rice polishing ratio 60%
Acidity 1.6
Amino acidity 1.1
Glucose concentration 1.7
Sake degree +3
Alcohol content 15 degrees
Yamawa Sake Brewery


In 1896, Yamawa Sake Brewery was established by the founder, Mr. Wahei Ito, who closed his family drug store and started sake brewing.
With the ideal of "passing down the throat like water", "Washiga Kuni" brewed using traditional methods has been loved by the locals.
Through constant trial and error in the selection of raw materials such as rice and yeast, as well as brewing water and other elements of sake brewing, we hired a female brewer, who was previously considered forbidden, and obtained certification from the Nanbu Toji Association. Following the brand "Meditation Water" and the new brand "Yamawa", it came to fruition in winning first place in the 2014 Sake Competition Junmai Daiginjo category.
In recent years, we have been attracting attention for participating in the brewing of "Date Seven", which is jointly produced by volunteer brewers in Miyagi Prefecture, and we are actively working on exporting overseas.