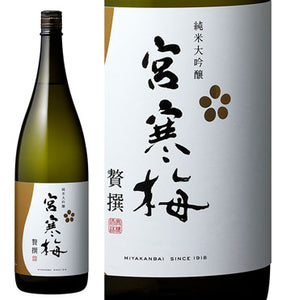 Pure rice size brewing sake from the finest rice luxury
Exquisitely tightened, yet extremely mellow. It is a taste that penetrates deep into the chest after rigorously polishing the rice.
Ingredients rice (domestic), koji rice (domestic rice)
Rice used: 100% Kura no Hana
Rice polishing ratio 40%
Alcohol content 15% Contents 720ml

Kanbai Sake Brewery



Our sake was born in 1918. About a hundred years ago.
Founder Sekijiro Iwasaki, who was a landowner, started today's business by picking local rice and making delicious sake. It is said that Sekijiro made sake with a sense of fun.
Each step of sake making is steady, and the craftsmen tend to be strict, but we still want to make it fun. Serious, passionate, hardworking, but fun.
I think that the light and cheerful feeling will surely be conveyed to the taste of sake.
Based on the product concept of "delicious sake in a single cup", this pure rice brewery uses only rice cultivated in-house, rice produced in Miyagi Prefecture, and underflow water from the Naruse River that flows next to the brewery, inheriting traditional craftsmanship.