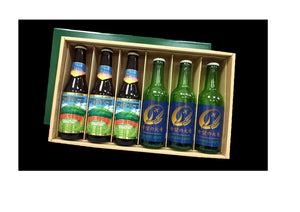 Yakurai Craft Beer Reconstruction Support Beer Gift Set with 6 Bottles
□ Set contents □

① Reconstruction Ale 330ml 3 bottles

Concentration 5% Bitter ★★★★ American Pale Ale Style A project beer for the recovery of eastern Japan in cooperation with Okayama University. We developed a new barley that is resistant to salt damage and moisture damage, and brewed with barley harvested in Kami Town and Higashi Matsushima City. It is characterized by a slightly strong bitterness with a citrus flavor.
② GRAND HOPE 330ml 3 bottles
Frequency 5% Bitterness ★★☆
★Citrus-flavoured Lager Beer Higashimatsushima City/Earthquake Reconstruction Support Beer brewed using barley grown in Higashimatsushima that was harvested by the "Barley Project of Hope." Using bottom-fermented lager yeast, the flavor is adjusted by citrus hops, making it a refreshing and easy-to-drink finish.
Yakurai Craft Brewery



This beer uses natural spring water from Yakurai, Kami-cho, Miyagi, which is located in the Funagata mountain range, and uses traditional techniques inherited from a German Braumeister (brewing engineer) to create an authentic beer.
The raw materials are carefully selected from Germany, the home of beer. Sparing no time and effort, we put our sincerity into every step of the process, from preparation to production.
Beer types include Pilsner, Weizen, and Dunkel, as well as seasonal products.